Commencing on July 15, 2022, the following supplemental information will be used in communicating with certain shareholders of VF Corporation:
Dear Shareholder:
VF Corporation is holding its 2022 Annual Meeting of Shareholders (the "Annual Meeting") on July 26, 2022. In connection with our Annual Meeting, we filed a definitive proxy statement (the "Proxy Statement") with the Securities and Exchange Commission on June 13, 2022. Our Proxy Statement is available, along with our Annual Report for Fiscal Year 2022 ("fiscal 2022"), at www.proxydocs.com/VFC.
We are writing to ask for your support at our Annual Meeting by voting in accordance with the recommendations of our Board of Directors on all proposals. In particular, we want to request your support by voting "FOR" Proposal 2—the advisory vote to approve compensation of our named executive officers as disclosed in our Proxy Statement, or "say-on-pay". We have historically received overwhelming support (greater than 90%) for our advisory vote to approve compensation of our named executive officers in recognition of our ongoing consistent and rigorous approach of setting challenging goals and appropriately assessing performance against those goals. In deciding how to vote on this proposal, we encourage you to read the relevant portions of our Proxy Statement and consider the supplemental information below with respect to our Annual Incentive Plan ("AIP") for fiscal 2022.
The Talent and Compensation Committee of our Board of Directors approves AIP objectives for our named executive officers at the beginning of the applicable fiscal year based on a rigorous review process. The goals approved for our fiscal 2022 plan were intended to be challenging and aligned with critical financial and strategic objectives designed to create long-term value for our shareholders. We have provided an overview of the metrics used for our fiscal 2022 AIP – along with the rationale for each metric – on page 29 of our Proxy Statement.
In addition to the summary of performance achievement against each enterprise, brand and region goal as applied for each continuing named executive officer provided in the chart on page 31 of our Proxy Statement, the updated chart below includes a new sixth column titled "Performance" which provides numeric performance results. We have not provided the performance results for the Segment Profit Ratio goals for the regions and brands as we do not publicly disclose that financial metric.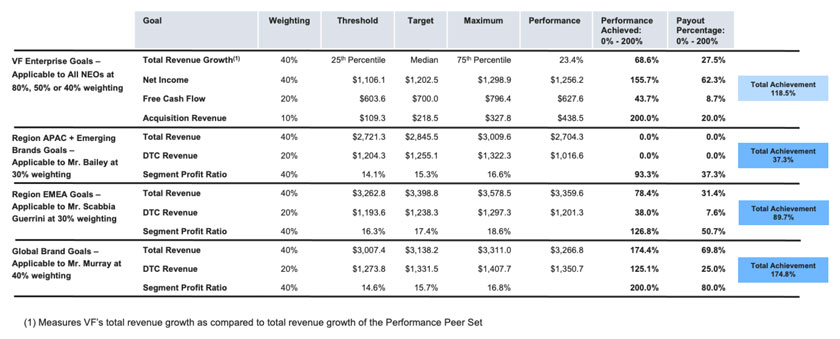 On page 29 of our Proxy Statement, we explained that individual goals and metrics under our AIP "focused on progress against key enterprise, region and/or brand transformational programs, portfolio/function optimization, Inclusion and Diversity, and Sustainability goals applicable to each executive's area of accountability." The supplemental information below provides additional detail with respect to those individual goals for Mr. Steven E. Rendle, our Chairman, President and Chief Executive Officer.