Gearing Up for the Big Game
Tags: Brand News
Gearing Up for the Big Game
February 5, 2016
As fans nationwide make final preparations for Super Bowl parties, associates at VF Licensed Sports Group (LSG) are preparing for one of their busiest times of year.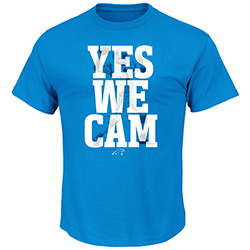 Majestic®, part of VF's LSG business, and the National Football League (NFL) recently agreed to a wide-ranging, multi-year contract extension. As part of the partnership, which has flourished for more than 26 years, Majestic designs, produces and distributes men's and women's fan apparel across multiple channels.
"For many, a trip to the Super Bowl is the ultimate once-in-a-lifetime opportunity, and we want to make sure fans have the best possible experience," said Jim Pisani, President of VF LSG. "With great products, interactive kiosks and player appearances, Majestic® is going to engage, entertain and excite the fans at the biggest game of the year. We can't think of a better way to end the NFL's season."
Majestic® will have an expanded retail presence in the Bay Area, on-site fan experiences leading up to the game and will be delivering Super Bowl champion apparel immediately following the final whistle.
As a part of its program, Majestic® is placing graphics adorning windows and columns located throughout the retail areas of the San Jose and San Francisco airports. With more than 2,500 square feet at the NFL Shop, Majestic® will offer NFL-licensed apparel from all 32 teams.
Then, as Super Bowl 50 heads for the history books on Sunday evening, the Majestic® team jumps into action, culminating five months of planning.
Before fans leave the stadium, Majestic® will be screen printing and embroidering the Super Bowl champion's logos onto a range of apparel. By early the next morning, that inventory will make its way onto retailers' shelves.
In addition to their on-site operations, Majestic® associates will be manning operations in Charlotte and Denver, to deliver merchandise to those fan bases first thing Monday morning.
Majestic® made its NFL fan wear debut in 1989, helping fans show their team pride with officially licensed sportswear. For more information about Majestic, visit www.majesticathletic.com.