VF Associates Show Commitment to Community with Service Projects
Tags: Sustainability & Responsibility Life at VF VF in the Community
VF Associates Show Commitment to Community with Service Projects
June 28, 2017
VF associates in recent weeks demonstrated the company's commitment to local communities worldwide with a series of service projects.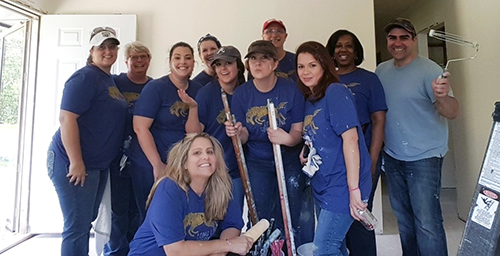 "We believe thriving communities mean thriving associates," said Laura Meagher, VF's Vice President, General Counsel & Secretary. "Being an actively engaged local citizen is both good for the community and good for business. Our associates around the world are making their communities stronger by living our values of honesty, integrity and respect, and by giving back to the places where they live and work."
Thousands of associates from VF's corporate headquarters, regional offices and its brands showed their commitment through a variety of service projects. Some examples of the projects included the following:
In Greensboro, North Carolina, more than 330 associates from VF's world headquarters and its Jeanswear organization donated over 830 volunteer hours working on 20 different projects, including improving the facility and grounds at the Glenwood Recreation Community Center and the Greensboro Science Center.
Wrangler® and Lee® partnered with local organizations in Lumberton, North Carolina, to revitalize more than 200 homes that were impacted following last year's hurricane.
Wrangler donated a portion of its jean-surplus to help the Girl Scouts of America create more than 300 dog beds for local animal shelters, and associates also gathered animal food for donation to the shelters.
In Alameda, California, associates from The North Face® volunteered with the Alameda Point Collaborative (APC), an organization that offers affordable housing, job training, health services and employment to help create communities where formerly homeless families can flourish.
At the Timberland® headquarters in Stratham, New Hampshire, associates celebrated Earth Week in April, bringing to life the brand's environmental agenda and participated in a series of fun, environmentally-focused activities, including sorting trash in a dumpster to determine what could be diverted to recycling and/or compost.
In California, Vans® organized an all-associate volunteer day in late April, and associates partnered with the Surfrider Foundation to clean up several California beaches.
Reef® associates at the brand's headquarters volunteered to work on and around a hydroponics farm operated by Solutions for Change, a nonprofit that provides a variety of services to combat urban homelessness and operates a social enterprise program called Solutions Farm.
Associates from VF volunteered at Cook Recreation Area in Nashville, Tennessee, helping the U.S. Army Corps of Engineers with a variety of projects, including fence building, planting trees and picking up trash.
For more information about VF's sustainability and responsibility program, visit sustainability.vfc.com.