Sustainability & Responsibility
Jul 11, 2022
Three Things You Didn't Know about Regenerative Agriculture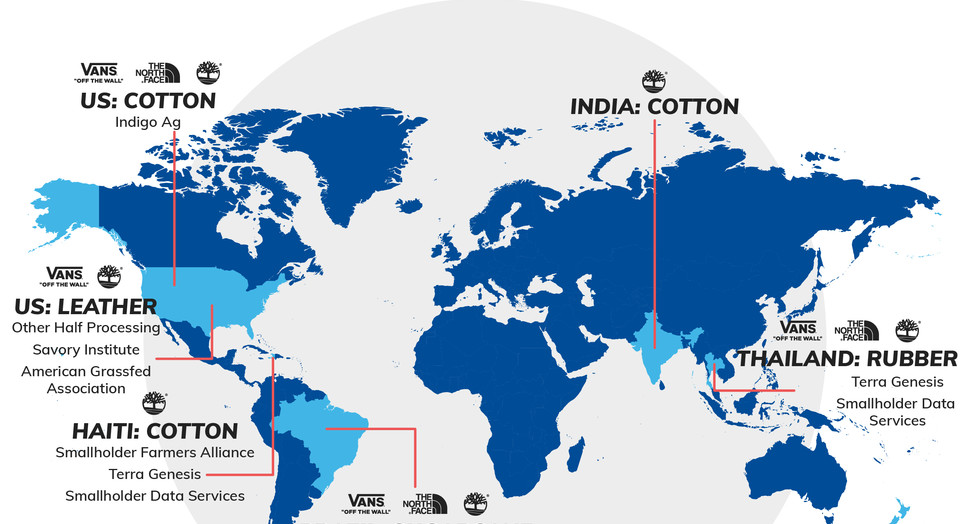 Regenerative agricultural principles are pushing into consumer vernacular. We're going deeper into regenerative agriculture, with a focus on what this hot topic is all about, and how it fits into VF's commitment to bettering people and the planet.
What exactly is regenerative agriculture and why is it important?
"Regenerative agriculture" encompasses a variety of environmentally and socially conscious practices which aim to help support biodiversity, enhance water cycles, improve soil health and sequester carbon. These practices, such as rotational grazing, cover cropping and no-till farming, aim to provide net beneficial impacts for the environment, farmers and local communities.


How does regenerative agriculture connect with VF's broader sustainability goals?
One of the largest contributors to our GHG footprint is the raw materials we use. Raw material extraction, processing, and production account for close to 50% of VF's total CO2 impacts—our largest single impact and greatest opportunity area across the business to leverage our scale for the betterment of people and the planet. To reduce the GHG emissions related to our materials footprint, we set a Sustainable Materials Vision that by 2030, our top 9 materials will originate from regenerative, responsibly sourced renewable or recycled sources. Investing in nature-based solutions, including regenerative agriculture, that aim to sequester carbon from the atmosphere is an important pathway to help us meet our ambitious targets.


How is VF utilizing this practice for their brand products?
VF and our brands are supporting regenerative agriculture pilots for key materials including leather, cotton, wool, rubber and sugarcane from pilots in the United States, New Zealand, Haiti, Brazil, India and Thailand. As we learn more from our pilots, our hope is to scale these approaches and source more materials from sources that follow regenerative agriculture principles. At the brand level,
Timberland®, Vans®, and The North Face® established a relationship with Terra Genesis and a network of smallholder farmers in Thailand, aiming to build the apparel industry's first regenerative rubber supply system.
icebreaker® and Smartwool® joined forces with footwear brand Allbirds to work with The New Zealand Merino Company (NZM) to create the world's first regenerative wool platform, ZQRX.
Timberland® introduced its first pair of boots made of leather from regenerative cattle ranches in Fall 2020, working toward wide-scale adoption across the brand's product lines.
In 2021, The North Face teamed up with Indigo Ag, aiming to bring to market cotton sourced and traced from U.S. farmers implementing agricultural practices that aim to build soil carbon.