Corporate News
Jan 13, 2022
Expanding Boundaries and Shaping the Future with VF Venture Foundry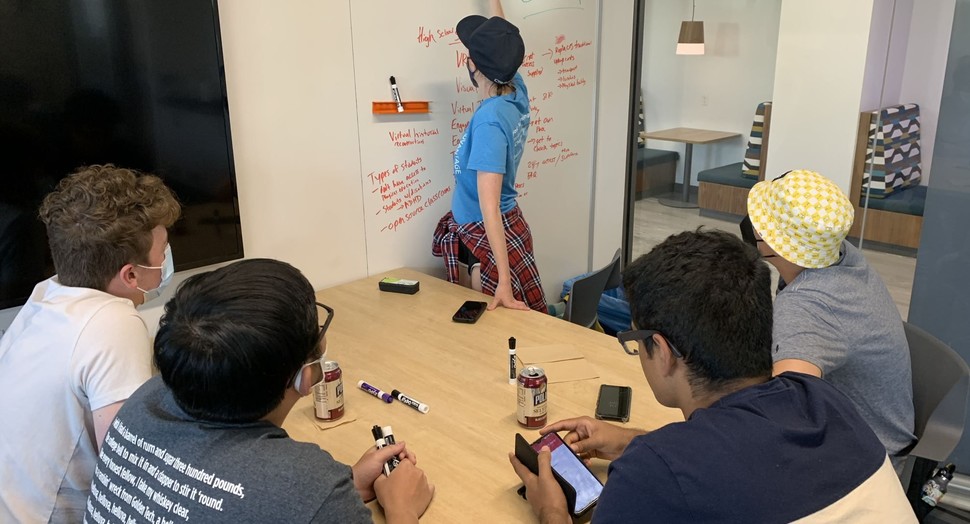 For over 120 years, VF has been at the forefront of shaping the industry, powering movements of sustainable, active lifestyles for the betterment of people and the planet. With this ongoing effort comes a commitment to innovation: a creative and strategic focus on development, disruption and scalability. Our recently-launched VF Venture Foundry is a new internal incubator backed by the power of VF which works with fearlessly curious entrepreneurs and founders hungry to build the future. Venture Foundry associates work outside the box using entrepreneurial skills and an experimental mindset to get to the commercial truth about consumer problems, needs and market opportunities by leveraging the stability and resources of a large organization.
Venture Foundry focuses equally on innovation for VF's existing portfolio of brands by co-identifying growth opportunities that capture new, organic revenue and new consumers. Associates within VF might identify an idea, an industry trend, or a consumer behavior pattern. Venture Foundry will then help define the consumer need or problem and guide the process to develop a defensible idea that can generate revenue. There are two initiatives taking place with Dickies® and Altra® and both are a work-in-progress. With Dickies®, Venture Foundry co-incubated a Maker Marketplace that provides independent designers with a platform and eventual toolkit to create custom and bespoke apparel designs. With Altra®, Venture Foundry co-identified 10 concept opportunities associated with the activities and consumers most interesting to Altra's® long-range plan.
Founders and entrepreneurially minded professionals outside of VF are recruited to become Entrepreneurs-in-Residence (EIR). Through the EIR program, individuals have the rare opportunity to ignite change and disrupt the Apparel and Footwear industry while having access to proprietary expertise only VF can offer, including insights from our brand portfolio, go-to-market capabilities, consumer and brand access and distribution platforms. VF Venture Foundry provides EIR's with access to tools and resources inside of VF to finesse their concept and bring it to market.
At the heart of Venture Foundry are four macro trends that serve as Venture Foundry's investment thesis and support VF's purpose of Powering Sustainable & Active Lifestyles.
Health & Self
This space maintains a focus on enabling consumers to decode their health while taking a holistic approach to wellness and harnessing the power of nature to improve overall health outcomes. The need for outdoor movement is key to individuals living their healthiest life, serving both the body and the mind. This focus on well-being aligns products and technologies to foster access to the outdoors, through a commitment to physical and mental wellness. Mountainist is a current Venture Foundry company focused on creating a community model for women who want to engage in outdoor adventure activities.
Marketplaces
Marketplaces are more than a transactional platform: they create a sense of community and make it possible for like-minded consumers to live and shop according to their values. These networks rely on curation, which could come in the form of multiple brands being shown together, or a mix of retail and resale offerings. Consumers are highly engaged, building trust in the platform and the people prior to making shopping decisions. Currently in the program is Out & Back Outdoor, a marketplace for primary and secondhand outdoor gear.
Sustainable & Conscientious Living
This pillar fulfills two primary consumer needs: growing interest in reducing consumption and waste, paired with increasing demand for transparency around product development and manufacturing. A focus on informed and sustainable choices drives innovation in this space, as consumers seek to lower their footprint, find new purposes or fixes for damaged goods and make consumption decisions based on product mapping and origin.
Virtual Goods & Experiences
Apparel and footwear will play strongly in the virtual and digital metaverse looking ahead. With virtual goods and experiences, we provide virtual monetization of nonphysical goods and services, design new models to experience and allow consumers to express and experiment with their virtual identity. Venture Foundry helps entrepreneurs develop and enhance virtual identities through the monetization of nonphysical goods and services.
Venture Foundry is incubating two companies with external founders: V3 – a digital wallet, non-fungible token (NFT) and brand metaverse builder; and Strange Outfit – a virtual, web3 and in real life (IRL) gaming platform.
What's Next?
As VF continues to work tirelessly alongside partners in leading our world to more sustainable and active lifestyles, we are especially excited to collaborate and share ideas with passionate entrepreneurs. We are still actively learning, experimenting with approaches and recruiting bright minds who are challenging the industry to think and work differently. Our current priorities are focused on establishing how we work, demonstrating early productivity and building our innovation network. Check back later this month for insights from a current Entrepreneur-in-Residence, who will share details on the journey into Venture Foundry and aspirations looking ahead.
Find out more about VF Venture Foundry here.
Find out more about BaseLayer Ventures, our sister Seed and Series A investment fund here.