Sustainability & Responsibility
Nov 07, 2022
VF is Seizing the Momentum with Fifth Sustainability & Responsibility Report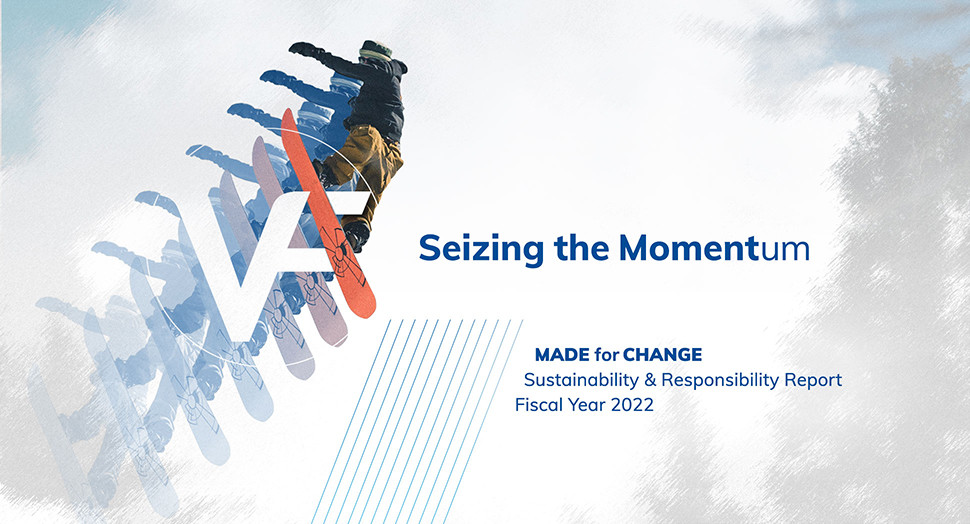 Today, we released our latest Made for Change Sustainability & Responsibility report, Seizing the Momentum. The report shares measurable progress toward our science-based targets, traceability goals, and other social and environmental commitments.
At VF Corporation, we believe there is a strong reciprocal relationship between living our Purpose and driving financial performance. By effectively managing this relationship, we aim to be a force for good while also delivering results for our shareholders. Despite significant challenges that continued to confront the global business community over the past year, we have remained sharply focused on our Purpose.
Now more than ever, there's an undeniable urgency to make meaningful and shared progress. Together, we – as a company, an industry and a society – must answer the call to action and do our part.
Following are highlights from some of the areas that underpin our strategy, and much more can be found in our report.
Putting Our Purpose into Action
Embedding Inclusion, Diversity, Equity and Action throughout VF: We are committed to fostering a workplace that celebrates the diversity of our associates. In FY22, we launched several new initiatives and program enhancements to advance our strategy and help our associates find authentic belonging no matter their demographics.
Progress achieved: In FY22, globally, 41.8% of our associates at the director-level and above identified as women and, in the U.S. 18.1% of associates at the director-level and above identified as

Black, Indigenous and People of Color (BIPOC)

. This represents continued progress toward our aspiration

to achieve gender parity globally at the director level and above by 2030 and to achieve 25% BIPOC representation at the director level and above in the U.S. by 2030.
Uplifting Human Rights: VF is committed to championing the fundamental human rights of everyone involved in our business operations and supply chain. It's a pledge we've outlined in our Human Rights Commitment and helps guide progress on the three strategic pillars of our Responsible Sourcing strategy: 1) Worker Rights; 2) Worker & Community Development; and 3) Health & Safety. We seek to foster inclusive and sustained economic growth and development that offers decent work opportunities to workers throughout our supply chain.
Progress Achieved:

Through our Worker & Community Development program,

we provided support to over 248,000 people in FY22 alone and more than 652,000 unique individuals since the program's inception. VF aims to improve the lives of 2 million people by FY31.
Acting on Climate Change: VF is taking bold and urgent action to combat climate change. Guided by our approved science-based targets, we're working to reduce greenhouse gas (GHG) emissions within our own operations and across our supply chain while advocating for immediate policy action aligned with the Paris Agreement. We're investing in renewable energy and factoring emissions considerations into our decision making across our value chain, from the materials we purchase to the waste we generate. And we're supporting industry collaborations focused on enabling long-term progress.
Progress Achieved:

We

achieved 66% of our 2030 target to reduce Scope 1 and 2 GHG emissions by 55%, and 8% of our 2030 target to reduce Scope 3 GHG emissions by 30%.
Traceability: As materials move through our complex global supply chain, gaining an accurate and dynamic understanding of their journey is an arduous but essential undertaking. Traceability is a core activity that supports every aspect of our sustainability and responsibility strategy. Our program leverages commodity volume data, country-level risk maps, supplier surveys and environmental and social risk data to deliver actionable insights for both our business and stakeholders.
Progress Achieved:

VF achieved our goal of publishing

traceability maps

for 100 of our brands' most iconic products by December 2021. In FY22, we continued to expand our traceability program, making progress against the goal to trace five key materials through 100% of our supply chain by FY28.
Uplifting Communities: The positive impact we have in the communities where we live and work is essential to being a Purpose-led business. Our associates are effecting meaningful change through personal passions and with company support and encouragement.
Progress Achieved:

VF associates volunteered more than 167,500 hours from FY19 - FY22. VF brands provided more than $15.6 million in monetary and product donations in FY21 and the VF Foundation, a private foundation solely funded by VF, provided over $8.3M in grantmaking in FY21.
Examples of VF brand initiatives featured in the report include the launch of the Vans® brand's Sustainability Hub and the unveiling of its new VR3 product line and labeling; the Timberland® brand's TimberloopTM takeback program and resale website launched in the U.S; and the JanSport® brand's series of philanthropic and volunteer efforts with like-minded organizations to bring more goodness into the world through the Back'd by JanSport program.
Rising to meet today's challenges requires us to do things differently. At VF, we're embracing this moment and what it means for our collective futures by driving even more momentum behind our sustainability and responsibility work. We hope you take a few minutes to explore our report and learn more.